Hurricane Wilma 2005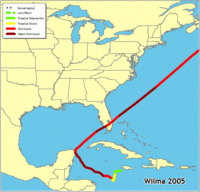 The massive and powerful Wilma formed from a broad area of disturbed weather that stretched across much of the Caribbean Sea during the second week of October. A surface low pressure system gradually became defined near Jamaica on October 14, leading to the formation of a tropical depression on October 15 about 220 miles east-southeast of Grand Cayman. The cyclone moved erratically westward and southward for two days while slowly strengthening into a tropical storm. Wilma became a hurricane and began a west-northwestward motion on October 18. Later that day, Wilma began to explosively deepen. The aircraft-measured minimum central pressure reached 882 mb near 0800 UTC October 19. This pressure was accompanied by a 2-4 mile wide eye. Wilma's maximum intensity is estimated to have been 185 mph a few hours after the 882 mb pressure. On October 20, Wilma weakened slightly and turned northwestward toward the northeastern Yucatan Peninsula. Late on October 21, the slow-moving hurricane made landfall over Cozumel, followed by landfall early the next day over the northeastern Yucatan Peninsula - both at Category 4 intensity. Wilma moved slowly and weakened over northeastern Yucatan, emerging over the Gulf of Mexico early on October 23 as a Category 2 hurricane. Later that day it accelerated northeastward toward southern Florida. The hurricane strengthened over the Gulf waters, and its center made landfall near Cape Romano around 1030 UTC October 24 as a Category 3 hurricane. The eye crossed the Florida Peninsula in less than five hours, moving into the Atlantic just north of Palm Beach as a Category 2 hurricane. Wilma briefly re-intensified just east of Florida, then weakened thereafter. The hurricane moved rapidly northeastward over the western Atlantic and became extratropical about 230 miles southeast of Halifax, Nova Scotia late on October 25. The remnants of Wilma were absorbed by another low late the next day.
Wilma brought hurricane conditions to the northeastern Yucatan Peninsula and the adjacent islands, as well as to southern Florida. In Mexico, Cancun reported 10-minute average winds of 100 mph with a gust to 130 mph at 0000 UTC October 22, while Cozumel reported a pressure of 928.0 mb late on October 21. The Isla Mujeres reported 62.05 inches of rain during the hurricane's passage. In Florida, a South Florida Water Management District (SFWMD) station in Lake Okeechobee reported 15-minute average winds of 92 mph with a gust to 112 mph at 1500 UTC October 24, while a nearby SFWMD station in Belle Glade reported a gust to 117 mph. Ten tornadoes occurred in Florida due to Wilma.
Twenty-two deaths have been directly attributed to Wilma: 12 in Haiti, 1 in Jamaica, 4 in Mexico, and 5 in Florida. The hurricane caused severe damage in northeastern Yucatan, including Cancun and Cozumel, and widespread damage estimated at $16.8 billion in southern Florida. Wilma also produced major floods in western Cuba.
The 882 mb pressure reported in Wilma is the lowest central pressure on record in an Atlantic hurricane, breaking the old record of 888 mb set by Hurricane Gilbert in September 1988. The central pressure fell 88 mb in 12 hours, which shatters the record of 48 mb in 12 hours held by Hurricane Allen in August 1980.
The National Hurricane Center also maintains the official Tropical Cyclone Report for Hurricane Wilma (PDF).

For an interactive map of Hurricane Wilma visit the NOAA Office for Coastal Management.
---
Site and page designs copyright © 2002-2023; all rights reserved
Disclaimer: "This web site contains information and opinions gathered from sources
believed to be reliable. Any of the information and/or opinions may be wrong."
Kenneth W. Brown, 4057 Trinidad Way, Naples, FL 34119
FBO Trinidad Way Neighborhood, IslandWalk